Smart watches are currently generating a lot of buzz among consumers and could be the next big thing in the mobile technology space. The Kreyos meteor smartwatch is an addition to this space and promises to offer Star Trek style functionality to wearers.
Funded through Indiegogo, it offers hands free control of mobile devices such as Android, iOS, and Windows 8 smartphones. This means that you will not miss an important call, email, or social networking site notification even if your phone remains out of sight.
Here is the Kreyos Meteor SmartWatch Review.
Features
The name Kreyos smartwatch is a bit misleading because it is not restricted to the wrist alone. You can wear it on your belt, around the neck on a lanyard, or strap it on your bike. In addition, you can control it using voice commands or gestures.
In turn, it connects to your smartphone via Bluetooth 4.0 technology allowing you to send e¬ mails, change the music that is playing, post updates on social networking sites, and receive calls. In general, the Kreyos can handle voice commands that you frequently use to access functions on your smartphone.
Gestures
Besides voice commands, the Kreyos comes with gesture controls built into its OS. For example, you can receive a call by simply flicking your wrist upwards. Other gestures allow you to change or skip music tracks as well as read social media notifications. It comes with four preconfigured gestures (left, right, up, and down).
However, you can change these pre configurations and customize them to suit your preference and style. According to the maker of the Kreyos meteor, this is the only smartwatch that comes with voice and gesture controls.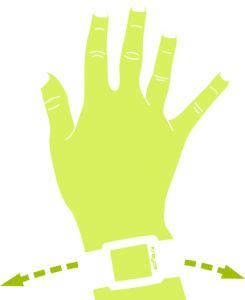 Unlimited APPs
In addition, this smartwatch comes with several apps such as Golf Range Finder, Golf Swing Analyzer, Swimming Analyzer, Baseball Swing Analyzer, Cycling, and Swimming. Developers can use its SDK to create apps that appeal to consumers.
For instance, developers can create apps that track the activities of cyclists, runners, golfers, and even swimmers (the Kreyos is waterproof). The good news is it is possible to store activity data in the cloud for use later or further analysis.
Tech Specs
The Kreyos' memory LCD screen measures 1.26 inches and has a resolution of 144 by 168 pixels. Its rechargeable lithium battery can last for 7 days. To recharge, you will have its proprietary USB cable.
Options
You can personalize the Kreyos smartwatch's external look to suit your color preference. Some of the available colors include Luscious Lime, Boppin' Black, Bo'Berry blue, Poppin' Pink, and Wintry White. In total, there are 20 different watch face designs available to consumers with more to come in the future. You can buy Kreyos Meteor smartwatch at a retail price of $169.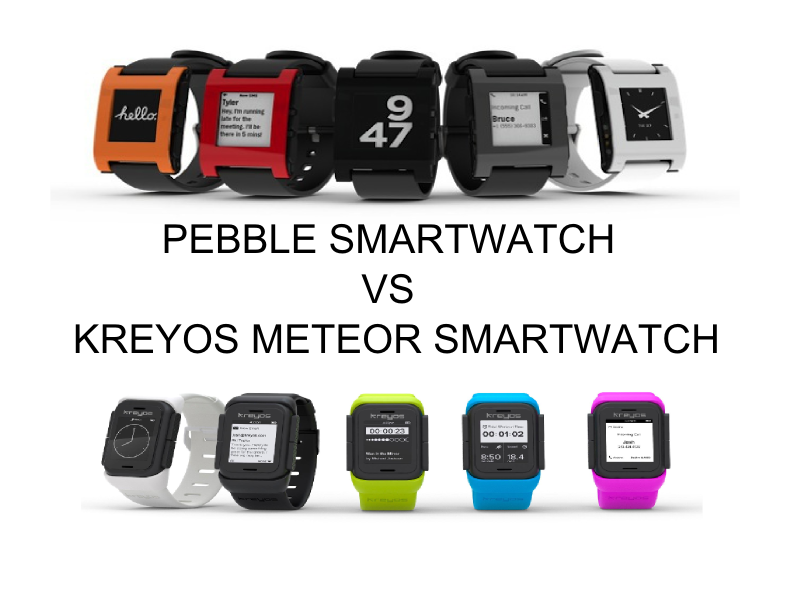 Pebble Smartwatch vs Kreyos Meteor Smartwatch
| | | |
| --- | --- | --- |
| Smartwatch | Kreyos Meteor Smartwatch | Pebble Smartwatch |
| Connectivity | Bluetooth 2.1+ | Bluetooth 2.1+ |
| Display | 1.26 Inch LCD Screen 144 x 168 pixels | 1.26 Inch LCD Screen 144 x 168 pixels |
| Colors | White/Lime/Blue/Pink/Black | White/Orange/Red/Grey/Black |
| Battery | At least 7 days battery life | At least 7 days battery life |
| Compatibility | Android, iOS, WP8 | Android, iOS |
| iOS Siri Control | Yes | No |
| Voice Control | Yes | No |
| Gesture Control | Yes | Limited |
| Speaker | Yes | No |
| Mic | Yes | No |
| Built-In Activity Tracker | Yes | No |
| Price | $169 | $150 |
Summary
The smartwatch space is exploding with established companies such as Samsung and startups such as Pebble bringing products to the markets. However, consumers can get their hands on a new smartwatch that boasts of both voice and gesture controls.
With the Kreyos, one can respond to incoming calls, social media notifications, text messages, emails, and calendar reminders. You can also use it to control music or find your phone.
When: Available for Pre-Order (Orders are first come first serve. The first orders will ship out January – March 2014)
What: Kreyos Meteor Smartwatch
Why: Easy to manage emails, texts, phone calls, and social media. All without having to pull our your phone.
Where: Kreyos.com
Cost: $169
The APP: Android, iOS, WP8
Author's Recommendation: The Kreyos Meteor is exactly what I've been looking for in a smartwatch. Takes everything you get with an activity tracker and combines it with a smartwatch. I already wear a watch so I feel this won't be too bulky or distracting. I will be pre-ordering mine in January and I will do an in-depth hands on review when I receive mine. I can't wait to test it out!
Add me on Google+ if you like my reviews and feel free to leave a comment below with any questions! Thanks for reading.