The new Nike Fuelband SE Review
The new Nike Fuelband SE Review
---
Fitness fanatics are always on the lookout for new and interesting activity trackers. It's been almost two years since Nike created their first activity tracking wristband, and it was hailed as an innovative product. Now they look to retake the growing wearables technology market with the Nike FuelBand SE.
Nike Activity Tracker Run Down.
The streamlined band looks smart. It looks and feels pretty much the same as the earlier version but it has a number of additional features. Slip the Matt black band on your wrist and it looks a little like a wristwatch. Nike has decided to trim the inside of the band with flashes of color.
You get three colors to choose from: Total Crimson ,Volt, Pink Foil: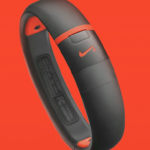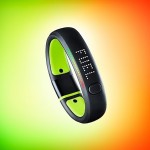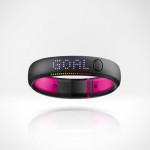 Available in three sizes: Small, Medium/Large, and Extra-Large.
Two "Easy-Insert" Links
Charges by USB
Bluetooth 4.0 (See bottom for specific platforms)
Water-Resistant
So does activity band number two look much different from fuel band number one? No, it looks pretty about the same. So what makes it worth $149?
The Latest Fuel Band is Easy to Operate
The SE has Bluetooth 4.0, so it automatically synchronizes with the Nike Activity tracker mobile app. If you bought the earlier version you will know that you had to manually sync it. Interacting with the band couldn't be easier because it functions using one button. This is great news for technophobes. Just double tap the button and the time display flashes on the screen.
Like the Jawbone UP and FitBit Force, Fuelband SE can now track your sleep schedule. In order to use the sleep function, just how down the button for 3 seconds and the device will track your sleep habits. The Fuelband SE does not come with an alarm feature.
The other great new feature is called 'sessions'. This is a revolutionary feature that will appeal to many. The first fuel band tracked the entire day's activity and gave a reading at the end. So you knew exactly how many steps you had taken and how many calories you had burned etc. The latest Nike activity tracker does the same job but you can split the day into sessions. This is a great idea because you can monitor your activity at certain times during the day.
Is it Difficult to Start a Session?
No. The Nike SE is simple to operate.
Press and hold the button down and start will appear on the screen.
Go to the main menu, locate sessions, press the clock at the top right of the display. This activates your location and gives you the opportunity to invite friends to join you.
As soon as you hit the start button the app will go into countdown mode and your session has begun.
The band records your body motion and the new SE version is capable of tracking all key fitness activities. For example, tag a workout and the Nike activity band notes how much energy is used. Start your session before you begin cleaning the house and the SE band charts how many calories you have burned off.
Tag daily activities, track them and the results are fascinating. Examine your daily sessions and check out your final fuel count.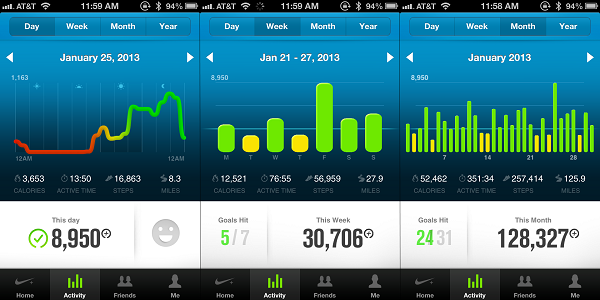 Interacting on the Nike Tracker
This is a brilliant feature. If a group of you are swimming or cycling you can compete against each other. You can also create milestones and give yourself an award. If you are one of those people who find it hard to motivate the fitness tracker will offer inspiration. Slip the Nike activity tracker on your wrist in the morning and leave it on all day. Set the 'move reminder' and the wristband flashes if you have been idle for too long.
Should You Buy Fuelband SE?
Yes. It's a fun fitness gadget and it's easy to operate. Nike has figured out that a lot of us lack the motivation to actually make it to the gym. Wear the activity band, set the 'move reminder' and you will soon be working off those calories. You get a lot of gadgetry for your money and competing against friends is fun. Check out our list of free fitness apps if you want to get start tracking right now.
Nike has produced a winning fitness band that will appeal to all age groups and I would definitely recommend putting it on your 'wish list'. The fuel band is on sale at the Nike Store and it can be purchased from numerous online retailers.
When can I buy FuelBand SE?
When:     November 6th
What:     Nike FuelBand SE
Why:       Help motivate yourself to stay in shape through the Winter months.
Where:   Nike.com OR Amazon.com
Cost: $149

The APP: Available on iOS only although I'm sure they will roll out support for the android market soon.
Author's Recommendation: Right now the FitBit Force is the best activity tracker on the market. Mostly because of the Android support but also because of the polished features. If you have an iPhone and you currently own other Nike products or owned the first generation Fuelband then the Nike FuelBand SE could be your next fit gadget purchase.
Add me on Google+ if you like my reviews and feel free to leave a comment below with any questions! Thanks for reading.
Nike Fuelband SE
Design

Software (No Android Support)

Durability (Waterproof)

Peformance

Comfort (Bulky)

Tracking Accuracy

Features (Sessions is awesome)

Very Good

!

Summary

Great activity tracker. Needs Android Support.